Young Professionals
Stephen Downes and Eliza Morgans
Our Client Since 2010
Several years ago we found ourselves with a surplus cash flow – prompting us to evaluate our financial options. Our ultimate goal was to minimise taxation whilst maximising our wealth generation. We knew this was the general path we wanted to follow and had a pretty educated idea of how to proceed but wanted the assistance and advice of professionals who knew the industry inside and out to ensure we didn't miss a beat.
APC was recommended to us by a family member who had already made use of their services for an extended period. The mere fact that our family member had been with the firm for so long demonstrated the quality and commitment they had to their clients and we were not disappointed when we did sign up.
Something that impresses us about APC is that they're able to employ their investment methodology to fit all of their clients' needs – tailoring their advice and solutions accordingly. This was fantastic because it wasn't just a one size fits all playbook. The advisers actually took the time to get to know us and our situation, ascertaining what our goals were. APC looks at each element holistically, ensuring that it can be utilised to its fullest ability amongst our greater financial situation.
APC is completely frank and open when discussing our financial strategy. They detail all the opportunities and risks associated with each element and aren't afraid to tell it how it is. They continuously communicate information with us that affects our strategy without being prompted – taking a proactive approach to the matter. They have absolute clarity when it comes to the strategies that they employ and can realistically forecast the results that will be delivered – which line up with our financial and lifestyle goals.
Their advisers continuously prove that they're looking out for us through regular meetings that are held to discuss any pertinent taxation or regulatory changes that may affect our strategy. Our ultimate goal is still kept at the front of their minds all these years later and we can see the positive outcomes and value that their advice offers. The combination of these two factors makes us feel comfortable and confident that we made the right choice signing on with APC.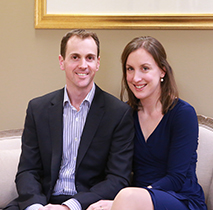 "Our trust in APC's advice is based on our belief that we are in the best possible position to reach our goals."
– Stephen Downes and Eliza Morgans